On the first Monday of every month during the school year we hold a whole school assembly here in Scoil Bhríde.
This is a very special occasion where we come together as a whole school to pray and celebrate together as a school community.
Things we celebrate include pupil birthdays, school achievements and
pupils who have received 'Well Done Awards' for following the School's
Code of Behaviour and the '4 Principal Rules'.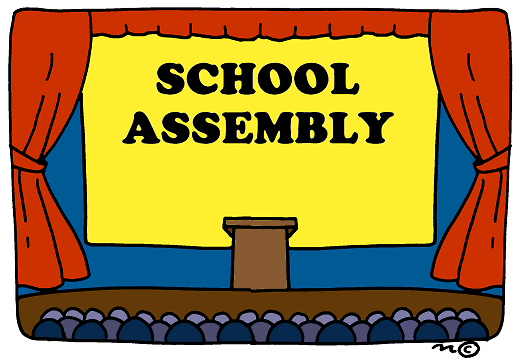 Scoil Bhríde Nurney Assembly Winners Hall of Fame!

Well done to the following pupils whose names were pulled from our monthly 'Well Done Award Prize Draw' by receiving

well done awards for great lining up, working hard, following teacher instructions, playing fair and nice in our school and

following in the footsteps of Jesus by showing kindness, compassion, respect, saying sorry and offering forgiveness.

We are so proud of each and every one of you!

Ella - 6th class

Charlie - 4th class

Muireann - 1st class

Luke - Senior infants

Amy - 6th class

Odhran - 4th class

Óisín - 2nd class

Jack - Junior infants

Heather - 5th class

Cameron - 4th class

Mia - 1st class

Emma Louise - Junior infants

Abbie – Senior Infants

Riley – 2nd class

Finn – 3rd class

Lauren – 6th class

Adam – Junior Infants

Finian – 2ndclass,

Alicia – 4th class

Katie – 6th class

Nathan – Senior Infants

Mia – 1st class

Gavin – 4th class

Ben – 5th class

Olivia – Senior Infants

Mia – 1st class

Conor – 4th class

Allanah – 6th class

Cianna – Junior Infants

Sarah – 1st class

Maya – 4th class

Daniella – 6th class

Oisín - Senior Infants

Mischa - 2nd class

James - 4th class

Anne - 6th class

Adrianna – Senior Infants

Caitlin – 2nd class

Cameron – 4th class

Saoirse – 5th class

Ornagh - Junior infants

Abigail - 2nd class

Cian - 4th class

Seán - 6th class

Byron - Junior infants

Abbie - 1st class

Saoirse - 4th class

Ellie - 6th class

Josh - Junior infants

Lily Kate - 2nd class

Dylan - 3rd class

Grace - 6th class

Millie - Junior infants

Clodagh - 1st class

Rayna - 4th class

Kiara - 6th class

Jack - Junior infants

Ryan - 2nd class

Caoimhe - 3rd class

Seán - 6th class

Nathan – Senior Infants

Rachel – 2nd class

Isabella – 4th class

Luke – 5th class

Noah - Senior infants

Thomas - 2nd class

Oisín - 3rd class

Seán - 6th class

Emma - Senior infants

Jamie - 2nd class

Layla - 4th class

Maya - 5th class

Luke - Senior infants

Sasha - 2nd class

Jacob - 4th class

Maya - 5th class

Corey - Junior infants

Áine - 2nd class

Óisín - 3rd class

Conor - 6th class

Reece – Junior Infants, Jack – 1st class, Luca – 3rd class and Jack – 5th classKayla – Junior Infants


Dylan – 2nd class

Lucy – 3rd class

Megan – 5th class

Kalei – Junior Infants

Oisín – 1st class

Grace – 4th class

Alex – 6th class

Georgia - Junior Infants

Frankie - 1st class

Adam - 3rd class

Alex - 6th class

Bryon - senior infants

Stephen - 2nd class

Erin - 3rd class

Liam - 6th class

Bryon - senior infants

Stephen - 2nd class

Erin - 3rd class

Liam - 6th class

Fiadh – Junior Infants

Frankie – 1st class

Mischa – 4th class

Eimear – 6th class

Kalei – Junior Infants

Frankie – 1st class

Lee – 4th class

Seán – 5th class

Kayla – Junior Infants

Rylee – 1st class

Cara – 4th class

Alex – 6th class

Reece – Junior Infants

Jack – 1st class

Luca – 3rd class

Jack – 5th class







0

/